Winchester-Frederick County, VA home sales for the first four months of 2019 saw a large uptick from the same period in 2018. The number of properties sold in 2018 was 753, and that number increased by 20.3% in 2019 to 906. That's an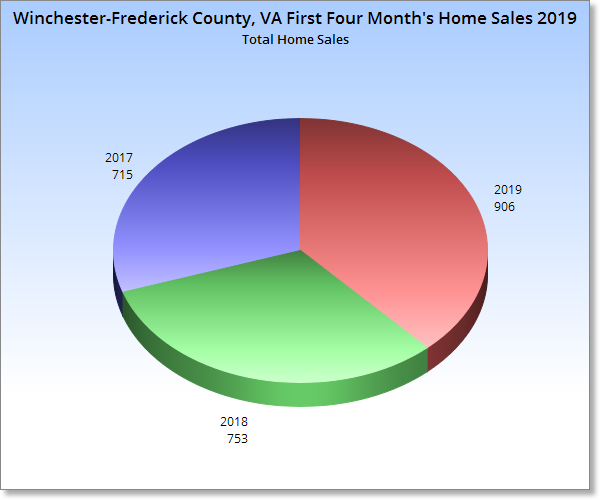 incredible jump year to year. Even with lower than average inventory, home sales are climbing. The high volume of home sales in the first four months should challenge the old adage that homes sell better in the Spring. They do sell better in the Spring, but that may be because home sellers tend to flood the market with more homes in the Spring than in the colder months. Is it because real estate professionals tell sellers to wait for Spring to list, or is Spring really the beginning of the local real estate market each year? That is a question for another day, but one thing that is obvious from the numbers is that homes sell all year round and a 20% jump year to year is good evidence that the Winchester-Frederick County, VA real estate market is strong.
The Frederick County home sale market is much larger than Winchester City. Frederick County, VA is 416 square miles, while Winchester City is 9.12 square miles. Winchester made up 14% of total homes sales for the first four months of 2019. Of course, that left 86% of the homes sold in Frederick County. Frederick County, VA is composed of a number of small communities. Depending on who you ask, and if they are incorporated or unincorporated, there are 15 to 56 communities in Frederick County. Of those smaller communities, Stephens City, VA is by far the stand-out. Stephens City home sales were 15% of the Frederick County real estate market in the first four months.
Winchester City home sales dropped one percent from 2018 to 2019. It had increased 3% from 2017 to 2018, and the overall increase from 2017 to 2019 was 4%. That is a nice steady movement for the small community. Because of the lower availability of homes, Winchester City typically stays in the single digits of home sales up or down. The average home sale price for Winchester City was $238805, while Frederick County was $284641.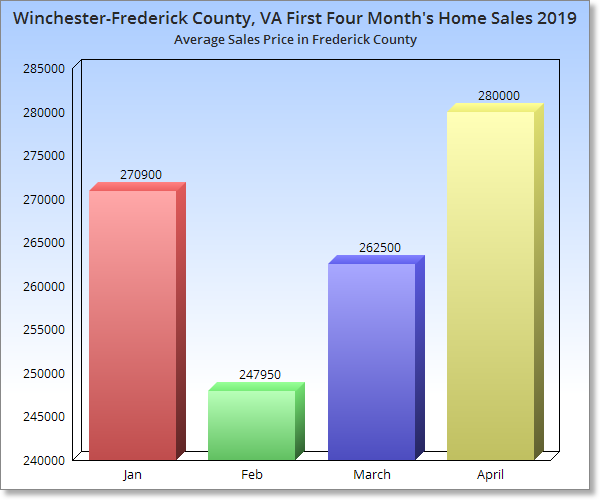 April 2019 saw the highest average sales price for Frederick County with an average sale price of $280000. February was the lowest in Frederick County at $247950. Winchester City also saw its highest average price in April 2019 at $242000. February and March tied for the lowest Winchester prices at $225500 and $225200 respectively.
The volume of homes sold increased each month in Frederick County, with the exception of April which fell to 226 from the March homes sales of 260. That was a 13% drop in volume sales, but April was a 71% increase over January 2019. Winchester City saw 47 homes sold in April. That was a 27% increase from March and an 88% increase over January 2019.
The days on the market for Frederick County stayed consistent from January to April, with only minor changes. Winchester City saw similar, and minor, changes month to month. One of the most interesting days on the market number changes for Winchester was the difference between January and April. There was a 60% increase in days on in the market in the City of Winchester for the month of April. Frederick County saw a 20% drop over those same four months. Days on the market can be difficult number to base market health on. So many things can influence the number of days on the market, such as, condition of the property, price, neighbors, volume of homes for sale in the same neighborhood or market, availability to be seen, home inspection details and a host of other things. DOM should be one of the last things a buyer looks at before crafting a purchase offer.
The current inventory of available homes on the Frederick County market, and that includes currently built and to-be-built homes, is 407 in Frederick County. A to-be-built home is not one that cannot be moved into at the time of a typical contract to closing. It will likely take 90-120 days before a buyer can receive the keys. Of the 407 available homes, 178 are to-be-built. There are 229 current resale homes on the Frederick County market. Winchester City has 71 available homes at this time. Of those listings, 6 are new builds. The increase in to-be-built homes is a good sign that contractors are feeling good about the current economic situation in the local market. Financing is easily available, interest rates are low and contractors are willing to take a risk on speculation and contracted builds. For current available homes in the Winchester-Frederick County VA real estate market, click here.
The Winchester-Frederick County VA real estate market is showing good signs for a great 2019. With four months behind the market, the future looks bright. An increase in inventory would be another positive improvement for the local market, but until that happens, the market is finding its way without the extra homes. When you're ready to buy or sell in the Winchester-Frederick County VA real estate market, give Mike Cooper a call. Mike is your local real estate sales pro.