Stephens City, VA - The Northern Shenandoah Valley's Best Kept Secret
Stephens City, VA may be the northern Shenandoah Valley's best kept secret. It is a small community nestled between

the Blue Ridge mountains at the top of the valley. It was founded by Peter Stephens in 1730 and named after Lewis Stephens in 1758. It was settled by German Protestants. It is the second oldest community in the Shenandoah Valley, next to Winchester.
It's immediate neighbor, Winchester, VA, is the home of the Winchester and Frederick County governments. Winchester is five miles north of Stephens City. It has been known by a few different names since the 1700s. At one point, it was called Stephensburg and later Newtown. The Newtown name has stuck around and today there is a Newtown festival each year.
The population of Stephens City is made up of 50.5% males and 49.5% females. The median age is 36 years old, and median income is $61262. Unemployment is currently running at 3.6%, slightly below the state average. The education level of the population breaks down like this, 89.5% of residents have a high school degree, 25.2% have a bachelor's degree, 11.8% have a Master's degree and 1.3% have a Doctorate. There are eight colleges within 50 miles from Stephens City. Lord Fairfax Community College is within five miles and it hosts Old Dominion University through satellite and online classes.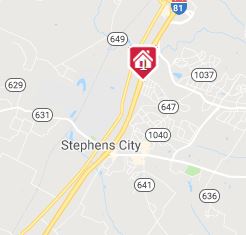 The community is 1.42 square miles. That's significant when it comes to real estate. Stephens City is part of Frederick County, VA. Frederick County, VA is a sprawling area in the northern Shenandoah Valley that surrounds the city of Winchester. The county makes up 416 square miles and Stephens City is only 1.42 square miles of that. With that small footprint, it comes as quite a surprise that Stephens City, VA makes up 29% of all local real estate sales. That includes the real estate covering Winchester-Frederick County.
A home, in 2016, averaged a value of $184226. Just sixteen years prior to 2016, that same home would have cost $85000. Today, that same three bedroom/two and a half bathroom home averages $257669. There are two areas of housing in Stephens City. The city proper has a small amount of available homes, but when a home-buyer looks at the area surrounding the city, new homes and new subdivisions are everywhere.
Builders such as, Dan Ryan Builders, David James Builders, Jim Nichols Construction, Helper Homes, Foreman Home Builders and Richmond Homes have been increasing home availability before and since the recession of 2008. The eastern side of Stephens City is the fastest growing side of the community. That is most likely due to the quick access to multiple highways leading away from Stephens City. For more information on homes for sale in Stephens City, VA click here.
Stephens City, VA, like Winchester, has become a bedroom community for those commuting into the DC metro area. The location of the community is a perfect place for those wishing to be away from the hustle and bustle of a big city while having ready access to the same. A resident in Stephens City has access to Rt 11 running north and south through the city, Interstate 81 also running north and south through the city, Rt 522 running north and south on the east side, Rt 340 coming from Clarke County, VA and heading into the Front Royal, VA area, and Rt's 7 and 50 out of Winchester. Just a few short miles down the interstate is Rt 66 which is a direct feed into the DC metro area. Stephens City is often called a commuters dream because of the quick access to so many highways.
Stephens City, VA has all of the pluses of a community much larger with the small town feel. It's location, amenities and affordable housing make it one of the fastest growing communities in the northern Shenandoah Valley. When you're ready to find that perfect Stephens City, VA home, give me a call. I am your neighborhood sales pro for Stephens City, VA home sales.